Region Var and lake of Sainte Croix and Provence in the heart of the Verdon
The most important aspects of camping L'Avelanède at the border of Lac de Sainte Croix in the Provence are:
The sun of southern France
The Var and Côte d'Azur within an hour's drive
Provencal markets
Villages in the Provence de Giono
Natural park of the Verdon
Lac de Sainte Croix, Lac de Saint Laurent, rivers, the Gorges du Verdon, forests and lavender fields in a delightful climate: warm during daytime, pleasantly cool at night.
The Verdon area and a unique location due to climate, height differences and varying activities offered by the area.
Cycling trails
Situation of the camping L'Avelanède in the heart of the Verdon
The camping is situated in the heart of the national park of the Verdon, with natural water springs and ideally located for versatile activities. The Verdon offers a wide range of activities and the landscape will take your breath away. Grand Canyon du Verdon, Moustiers Sainte Marie and her pottery. Aups with her provencal markets, Valensole with her lavender fields and truffles. Tourtour is also a beautiful village to discover. Some ideas: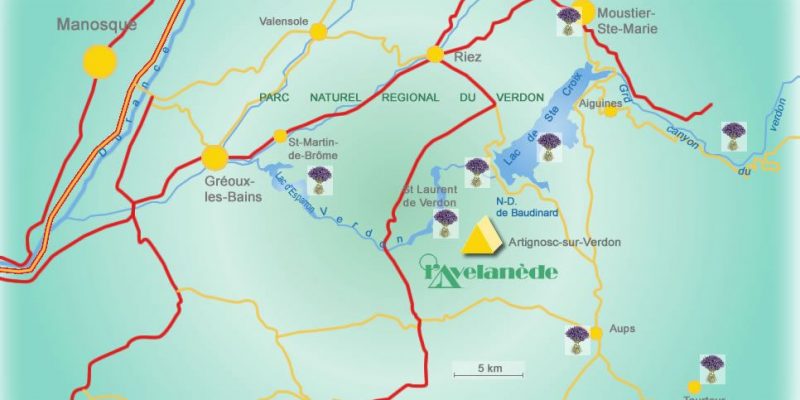 Activités:
Swimming and canoo rentals, paddle boats, surfing boards, sailboats and electric boats.
Lake of Artignosc: 5 minutes from the campsite
Hospitable and calm lake
Departure from the basse gorges de Baudinard
Lac de Sainte Croix: 10 minutes from the campsite
Grand lake, with very versatile beaches, villages and environments.
Lac De Quinson: 15 minutes from the campsite
Dépature of the Basses Gorges du Verdon d'Esparron
Lake of Esparron de Verdon: 20 minutes from the campsite
Beautiful lake with rocky coastlines, creeks andjumping rocks,..
Grand Canyon of the Verdon (the biggest canyon in Europe): 45 minutes away from the camping.
An acitivity to do during your holiday!
Rental canoes in Artignosc:
The Gorges de Baudinard are the least well-known in the Verdon, a harbor of peace which beauty will leave you breathless!
Horse rides in Artignosc:
From pony to horse on the shores of the Lac d'Artignosc sur Verdon.
Valensole:
Who doesn't know the highlands of Valensole with its lavender fields? Hiking trails start at the camping site and will take you around the lake of Sainte Croix towards Valensole.
Sillans La Cascade:
Beautiful provencal village with a 40m tall waterfall. Go hiking on an afternoon on the designated hiking routes in the surrounding nature.
Museum of Prehistory:
Life through the ages in the Verdon!
Moustiers Sainte Marie:
Classified as one of the most beautiful villages in France: the pottery, a village pierced by…
Tourtour:
Also classified as one of the most beautiful villages in France: a hamlet that embodies the Provence.
Rafting/Canyoning/Climbing:
You are cordially invited to explore the Grand Canyon de Verdon in different ways.
More at look directly in the site, especially to spend a relaxing and calming holiday on the spot.